Our Team
Our Team
Judson Byleen went from a one-man-operation to a team of ten full time employees, in addition to enlisting additional labor during peak seasons. Judson Byleen was one of the first in the nation to earn the title of Certified Irrigation Designer for both residential and commercial systems. We realize the importance of a well designed lawn sprinkler system. Judson Byleen is certified by the National Irrigation Association in four areas – Certified Irrigation Contractor, Residential Certified Irrigation Designer, Commercial Certified Irrigation Contractor and Certified Landscape Irrigation Auditor. In addition, three employees of Judson Irrigation have also passed the requirements to become Certified Irrigation Contractors. No other Nebraska based company has demonstrated this level of professionalism.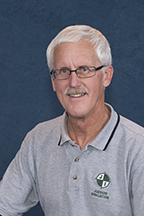 Judson attended Lincoln Northeast High School and the University of Nebraska graduating in 1972 with a Bachelor of Science degree in mathematics. During his college years, he began in the lawn sprinkler business and has dedicated himself to the industry on a full time basis ever since. In due course, he has become nationally certified as a contractor, a residential designer, a commercial designer and an irrigation auditor. He has been actively involved with both local and national irrigation associations over the years.
In his spare time, you may see Judson with his grandkids, attending University of Nebraska athletic events or working on his golf game. Judson Married Karen Fleischman in 1978. After growing up on a farm outside of Tekamah, Nebraska, Karen earned a degree in Home Economics and Interior Design. In the course of her career, she has managed the custom framing department at Miller and Paine in Lincoln, raised 3 children and worked with graduating seniors in the college of Education and Human Sciences. When the Byleen children came along, Karen's focus moved towards making in the business and coordinating the activities of Austin, Rachel, and Amanda. After 23 years on the home front, Karen went back to work at the same position at UNL that she left in 1983. What are the chances of that happening! Austin, graduated from Nebraska Weleyan in May 2005 with a degree in Biology and Chemistry. During his college years, he coached boys and girls junior-high intramural sports and worked at Judson Irrigation in the summers. On July 29, 2006, Austin and Karlie Murphy were married at the Lincoln Berean Church. Karlie graduated in 2007 as a Doctor of Physical Therapy from the University of Nebraska Medical Center in Omaha, and currently works as a physical therapist for Lincoln Public Schools. Austin graduated from Bryan Hospital's College of Life Sciences Cardiac Invasive Surgery Program, and currently works at Bryan Hospital in Lincoln. Rachel is the golfer in the family. While attending Lincoln Southeast High School, she won the Nebraska High School Class A State Golf Championship. Rachel was recruited to play women's golf at Creighton University and graduated in 2010 as a pharmacist. On October 2, 2010 Rachel and Cody Madsen were married at Sheridan Lutheran Church. Cody graduated from the University of NE Kearney and is a firefighter for Lincoln Fire and Rescue. Graduating from Lincoln Southeast High School in 2006, Amanda participated on both the golf and women's basketball teams. She graduated from UNL with a degree in pathology and audiology. She is currently working as a child life specialist at Monroe Carell Jr. Children's Hospital at Vanderbilt University in Nashville, TN.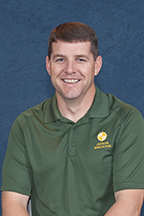 Cary graduated from Hartington Cedar Catholic High School in 1990 and received a degree from the University of Nebraska Lincoln in Business Administration majoring in Management & Marketing with a minor in Communications Studies. He started working with Judson in 1992 on the installation crew. Through hardwork and diligence, Cary has worked his way through the ranks to his current position as Director of Operations. In 2004, he became a Certified Irrigation Contractor by the National Irrigation Association.
He stays active playing on the championship Judson Irrigation softball team and coaching basketball, softball and soccer for his daughter's sports teams. In his spare time, Cary enjoys spending time with his family, friends and following the Huskers! Cary & his wife Tiffany have three beautiful daughters, Tenley, Tatum and Taylor. There is never a dull moment in the Heimes' household with three active children.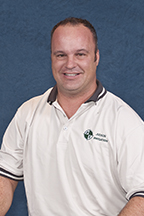 Jason grew up in northeast Nebraska in the town of Hartington. After graduating from high school, he attended Northeast Community College on a golf scholarship. Jason was all-conference and a national qualifier during those years. While continuing his education at the University of Nebraska, he worked on the grounds crews at HiMark and Firethorn Golf Courses in Lincoln. He's been with Judson Irrigation since 1998. Jason received his bachelor's degree from UNL in August 2006.
Jason is also an avid fisherman and hunter. His claim to fame is that he holds the Hartington Golf Course nine-hole record of eight under par 28. During this record-breaking round, he scored six (6) birdies, two (2) pars and one (1) eagle. Wow! He is considered by many to be the greatest athlete to ever leave the town of Hartington.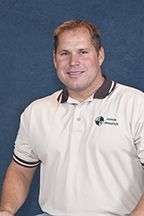 Greg grew up in Hartington, where he was graduated salutatorian at Cedar Catholic High School. In May 2000, he received a BS-BA degree from the University of Nebraska Lincoln with a double emphasis in accounting and management information systems. Greg began working at Judson Irrigation following his freshman year at UNL in 1996. In 2004, he became a Certified Irrigation Contractor by the National Irrigation Association.
Sports is his ex-curricular love! Throughout high school and college he was active in baseball, basketball and golf. Greg continues to play basketball and golf and participates on a city recreational slow-pitch softball league in the summer. He and his wife, Amanda, who is a former Husker athlete on the swimming and diving team are great fans of Husker athletics. GO HUSKERS! They enjoy spending time with their beautiful daughter, Kendal and son Chase.
Michael was born and raised in Lincoln where he graduated from Lincoln High in 2001 and went on to graduate from the University of Nebraska with a degree in Business Administration in 2006. Michael started his Judson Irrigation career after his sophomore year in college. After he graduated from UNL he went on to work for former United States Senator Chuck Hagel. After Senator Hagel retired from the Senate in 2008, Michael came back to work full time for Judson Irrigation.
Outside of work, Michael has many hobbies. He has many years of experience showing and raising Boxer dogs. He currently has two AKC champion Boxers named Brandy and Henry. Michael loves sports, especially basketball. He grew up playing basketball but now has gotten more involved with coaching, where he coaches a youth boys' team. Other sports Michael enjoys playing are golf and sand volleyball. He also has a passion for classic muscle cars.
Ricky graduated from Greeley High School in 2003. I May 2010 he received a degree from Doane University in Business Administration in Accounting. Ricky has been with Judson Irrigation since April 2004.
Ricky is a member fo the ENOA (Eastern Nebraska Officials Association) he is an official for youth and high school level basketball games. Ricky and his wife Abby were married in 2009, she works for Bryan Health as a Nurse in Clinical Informatics. They have a daughter Allison. In their spare time, they enjoy spending time with family, playing softball, golf and watching Husker sports.
Terry was born and raised on a farm near Greeley, Nebraska and enjoys the outdoor life. He graduated from the University of Nebraska-Lincoln in 2000 with a degree in Broadcast Journalism. Terry has been with Judson Irrigation since 1998 and in 2004 became a Certified Irrigation Contractor. Terry lives near the Omaha area and is responsible for servicing Judson's Omaha Customers.
Terry and his wife Kari were married in 2006 and have 2 children: Calan and Millie. Kari is a senior microbiologist for ConAgra Foods and has been with them since 2008. They love spending time with family, hunting, fishing, golfing, and watching Huskers athletic events.
Ryan grew up in small town Stockham Nebraska. He graduated from Sutton Public High School in 2003 and received an associates degree in Horticulture from Southeast Community College in 2007 while studying turfgrass management. He has twelve years of experience in the golf course industry including five years working as the superintendent at Galaway Creek Golf Course in Henderson Nebraska. In 2013 Ryan started working with Judson on the Specialized lawn fertilization programs. Ryan has a pesticide applicators license in class 04 ornamental and turf pest control.
While not working Ryan enjoys playing golf and spending time with friends and family.
Ly came to the United States from Viet Nam at the age of 15. She graduated from Lincoln Northeast High School and graduated from Nebraska Wesleyan University with a major in International Business Management and a Minor in Japanese. She started working for Judson Irrigation in October 2012 as Office Manager.
Outside of work, she loves traveling and exploring new places, discovering new land and new languages. She intends to travel as often as she can and on her bucket list is to visit every continent on the planet.