Our Team
Our Team
Judson Byleen went from a one-man-operation to a team of twelve full time employees, in addition to enlisting additional labor during peak seasons. Judson Byleen was one of the first in the nation to earn the title of Certified Irrigation Designer for both residential and commercial systems. We realize the importance of a well-designed lawn sprinkler system. Judson Byleen is certified by the National Irrigation Association in four areas – Certified Irrigation Contractor, Residential Certified Irrigation Designer, Commercial Certified Irrigation Contractor and Certified Landscape Irrigation Auditor. In addition, three employees of Judson Irrigation have also passed the requirements to become Certified Irrigation Contractors. No other Nebraska based company has demonstrated this level of professionalism.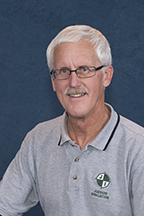 Judson attended Lincoln Northeast High School and the University of Nebraska graduating in 1972 with a Bachelor of Science degree in mathematics. During his college years, he began in the lawn sprinkler business and has dedicated himself to the industry on a full-time basis ever since. In due course, he has become nationally certified as a contractor, a residential designer, a commercial designer, and an irrigation auditor. He has been actively involved with both local and national irrigation associations over the years.
In his spare time, you may see Judson with his grandkids, attending University of Nebraska athletic events, or working on his golf game. Judson married Karen Fleischman in 1978. After growing up on a farm outside of Tekamah, Nebraska, Karen earned a degree in Home Economics and Interior Design. During her career, she has managed the custom framing department at Miller and Paine in Lincoln, raised 3 children, and worked with graduating seniors in the college of Education and Human Sciences at UNL.
When the Byleen children came along, Karen's focus moved towards working in the business and coordinating the activities of Austin, Rachel, and Amanda. After 23 years on the home front, Karen went back to work at the same position at UNL that she left in 1983. What are the chances of that happening!
Austin graduated from Nebraska Wesleyan in May 2005 with a degree in Biology and Chemistry. During his college years, he coached boys and girls junior-high intramural sports and worked at Judson Irrigation in the summers. On July 29, 2006, Austin and Karlie Murphy were married at the Lincoln Berean Church. Karlie graduated in 2007 as a Doctor of Physical Therapy from the University of Nebraska Medical Center in Omaha, and currently works as a physical therapist for Lincoln Public Schools. Austin graduated from Bryan Hospital's College of Life Sciences Cardiac Invasive Surgery Program, and currently works at Bryan Hospital in Lincoln. Austin and Karlie have three sons, Landon, Logan, and Brecken.
Rachel is the golfer in the family. While attending Lincoln Southeast High School, she won the Nebraska High School Class A State Golf Championship. Rachel was recruited to play women's golf at Creighton University and graduated from Creighton in 2010 as a pharmacist. On October 2, 2010 Rachel and Cody Madsen were married at Sheridan Lutheran Church. Cody graduated from the University of NE Kearney and is a firefighter for Lincoln Fire and Rescue. Cody and Rachel have two daughters, Adelyn and Grace, and a son, Cameron.
Judson and Karen's youngest, Amanda, graduated from UNL with a degree in speech pathology and audiology. She moved to Nashville, TN to work at Vanderbilt Children's Hospital and while in Nashville she met Stephen Rush. Amanda and Stephen were married in March 2019. They reside in Nashville, TN where Amanda works for Franklin Road Academy in development and Stephen is a Professor at Belmont University. Stephen and Amanda have a son, Anderson.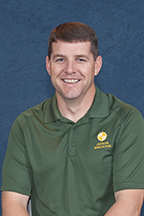 Cary graduated from Hartington Cedar Catholic High School and received a degree from the University of Nebraska Lincoln in Business Administration majoring in Management & Marketing with a minor in Communications Studies. He started working with Judson in 1992 on the installation crew. Through hard work and diligence, Cary has worked his way through the ranks to his current position as Director of Operations. He has been a Certified Irrigation Contractor by the National Irrigation Association since 2004.
He stays active in his spare time coaching basketball and softball for his daughter's select sports teams. Cary enjoys spending time with his family, friends, all athletics, and following his daughter's extracurricular activities year-round. A good day at the lake is always a welcomed adventure. Cary & his wife Tiffany have three beautiful daughters, Tenley, Tatum and Taylor. Being able to build relationships and provide solutions for our customers continues to motivate him daily.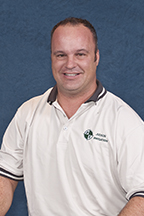 Jason grew up in northeast Nebraska in the town of Hartington. After graduating from high school, he attended Northeast Community College on a golf scholarship. Jason was all-conference and a national qualifier during those years. While continuing his education at the University of Nebraska, he worked on the ground's crew at both HiMark and Firethorn Golf Courses in Lincoln. He's been with Judson Irrigation since 1998. Jason received his bachelor's degree from UNL in August 2006.
Jason is also an avid fisherman and hunter. His claim to fame is that he holds the Hartington Golf Course nine-hole record of eight under par 28. During this record-breaking round, he scored six (6) birdies, two (2) pars and one (1) eagle. Wow! He is considered by many to be the greatest athlete to ever leave the town of Hartington.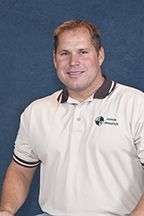 Greg grew up in Hartington, where he was graduated salutatorian at Cedar Catholic High School. In May 2000, he received a BS-BA degree from the University of Nebraska Lincoln with a double emphasis in accounting and management information systems. Greg began working at Judson Irrigation following his freshman year at UNL in 1996. In 2004, he became a Certified Irrigation Contractor by the National Irrigation Association.
Sports is his ex-curricular love! Throughout high school and college he was active in baseball, basketball and golf. He and his wife Amanda, who is a former Husker athlete on the swimming and diving team, are great fans of Husker athletics. GO HUSKERS! They enjoy watching their three children play sports. Their daughter Kendal is active in basketball and softball, their son Chase plays baseball, and their son Blaise plays soccer and baseball.
Gary grew up in northeast Nebraska around the farming community of Wynot, Nebraska. He married Joyce Leader in 1968 at Holy Trinity Catholic Church in Hartington, Nebraska. They have 3 sons, Kirk works for Midwest Electric in Grant, Nebraska; Cary works for Judson Irrigation; and Greg who also works for Judson Irrigation. He thoroughly enjoys following all the sports activities that his 6 grandchildren are involved in throughout the year.
Gary spent 40 years with Nebraska Public Power District on line construction crews and various positions of supervision and management throughout his tenure in public service to Nebraskans. He simultaneously spent in excess of 31 years with the South Dakota National Guard and the Active Army as a Combat Engineer. He is a veteran of the Desert Storm conflict and retired from the military in 1996 as a US Army Colonel.
Following his retirement from the Power Company in 2008, Joyce and Gary spend their winters in Arizona enjoying the warmth and sunshine. When spring arrives, they return to Nebraska and Gary helps with servicing Judson Irrigation customers, under the direction of two of their sons, Cary and Greg.
Tom was born and raised in Nebraska. He initially started with Judson Irrigation in 1996 and returned in 2012. Tom is married with four kids, one of whom works at Judson Irrigation. Tom enjoys Nebraska football and integrating technology in any fashion.
Alex was born and raised in Beatrice, NE where he graduated in 2015. While attending the University of Nebraska-Lincoln he began working at Judson Irrigation in 2017 and has worked up through the ranks from being a helper to our installation foreman and now runs his own service van.
Outside of work, Alex enjoys traveling to and exploring National Parks, golfing, boating, snowboarding or really anything that gets him outdoors.
Jacob started working for Judson irrigation while finishing up his senior year of high school in 2019. He was home-schooled through middle school and high school. His current interests and hobbies include working on and maintaining his vehicles, car audio systems, fishing, camping, and having a good time with friends.
Fred Thorne is a Lincoln native and graduate of Lincoln Southeast High School. He graduated from Grace University in Omaha with a Bachelor of Science degree in Biblical Studies and Organization Leadership and Management. Fred has earned a Certificate of an Associate Irrigation Designer with The Irrigation Association and has been professionally involved with grass and landscape irrigation since the 1970s. He has also held the position of Irrigation Manager for The University of Nebraska responsible for the landscape hydration of a total of 617 areas of both city and east campuses. Fred is an ordained minister and Director of Banquet Street Ministries an Evangelistic ministry of proclaiming the gospel of Jesus Christ locally and nationally. He is an elder at Elevate Church Lincoln and participant of the local Fellowship of Christian Athletes.
Fred's hobbies include reading, science, and traveling with his family. He is married to Tamara Thorne who is from Holland, NE and is currently employed at Bryan Hospital. Fred has 6 children Rachel Torres (Rafael Torres) of Lincoln, Fred Thorne Jr of Lincoln, Melissa Thorne of Lincoln, Joshua David Thorne of Austin, TX, Elizabeth and Michael Thorne of Nashville, TN, and Kara Ann Thorne of Lincoln. Fred also has 5 grandchildren, all in Lincoln.
Ly came to the United States from Viet Nam at the age of 15. She graduated from Lincoln Northeast High School and received her bachelor's degree from Nebraska Wesleyan University. She started working for Judson Irrigation in October 2012 as an Office Manager.
Outside of work she loves traveling, exploring new places, and discovering new land with her husband Scott. They share 2 Shibas, Latte and Espresso, that keep them busy.
Lacey graduated from Kearney High School and received an associate degree in Business Administration from Southeast Community College in 2017. She has been working at Judson Irrigation since May 2015 as an Office Manager.
Lacey and her husband Aaron share two daughters, Blaklee and Frankie. They enjoy spending time outdoors, going to the zoo, and movie nights.
Nicky graduated from College of Hair in 2013 with a cosmetology license. She began working at Judson Irrigation in October 2019. Outside of work she enjoys traveling and spending time with family.
Sheryl is a Fremont High and University of Nebraska-Lincoln graduate. She began working part-time at Judson Irrigation in September 2020.
Sheryl and her husband Tom raised 3 children. Outside of work she enjoys time with family, including 3 grandchildren, as well as traveling, hiking and biking.